Eisteddfod for Adults: 29 June 2019
Literature competitions
The Abergavenny Eisteddfod is open to any competitors, wherever they live. There are literature competitions for Welsh and English speakers, and for Welsh learners.
Please see the entry form below for more details and lists of the competitions.
Dates and times
Closing date for entries:  14 June 2019
Presentation of prizes: at Methodist Church, Castle Street, Abergavenny. 7 pm – 10.30, Saturday 29 June 2019
Announcing the winners
If your work has been placed, you will be advised in advance of the Eisteddfod on 29th June, so that if you wish you can come to the stage finals, which are in the form of a concert. During the concert, the winning literature entries will be revealed and the prizes awarded. If time allows, selected winning entries will be read out.
Winning entries may be printed in the press and/or the Eisteddfod website.
Prizes
The first prize is £30; second is £20 and third is £10.
How to enter
Please fill in the online entry form or download a Word version, which includes details of the competitions and how to submit.
Abergavenny Eisteddfod 29 June 2019 – closing date 14 June 2019
Entry form for literature competitions (English language & Welsh learners)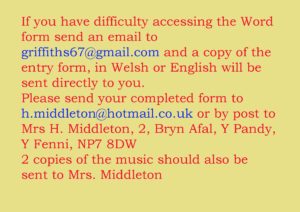 Competition
ENGLISH LANGUAGE
English Short Story: (not more than 1,000 words) Discovery
English Poem: (not more than 20 lines): Discovery
English Limerick: to include the words "explore, explored or exploring"
WELSH LANGUAGE – PROFICIENT
Welsh Short Story: (not more than 1,000 words) Darganfod
Welsh Poem: (not more than 20 lines): Darganfod
Welsh Limerick: to include the word "fforio"
WELSH LEARNERS
Welsh learners (Entry Level ): ebost i brynu tocyn i arddangosfa
Welsh learners (Foundation Level): stori i wefan am ymweliad i Amgueddfa
.
Welsh learners (Intermediate Level): Ysgrifennwch ddarn ffeithiol am Alfred Russel Wallace
Welsh learners (Advanced Level): Atgof – Darganfod y Gymraeg.
I have read the information on the Competing>Adults 18+ literature web page and I agree to abide by the conditions (pl tick box)
Please send me information about next year's event. (If you don't tick this box we will remove your details from the eisteddfod database after this year's event.)
Name
Pseudonym (Don't forget to put your pseudonym, and not your name, on the work you submit.)
Contact address
Contact e-mail* Mobile/contact tel. no.
*you will be contacted to let you know if your work has been placed, so that you can attend the evening eisteddfod / gala concert if you wish, to receive your prize.
Please complete this form and send it as an attachment, together with an electronic copy of your work, to davidwilliams177@btinternet.com
If this is not possible, send the form by post with a hard copy of your work to Rosemary Williams, 7 Cwrt Newydd, Crickhowell NP8 1AQ
Alternatively, you can send a hard copy of your entries to Rosemary Williams, 7 Cwrt Newydd, Crickhowell NP8 1AQ
Notes
The 2019 adjudicators are  Eryl Sheers (English) and Ion Thomas (Welsh)
Entry will be by Evening Concert Programme costing £5
Photographs will be taken and may be used for publicity purposes.
Further information
For any queries, please contact Rosemary Williams davidwilliams177@btinternet.com (01873 811814)